A thousand-year old "Nghien" tree (Burretiodendron hsienmu) in Cao Bang recognized as Vietnam Heritage Tree by VACNE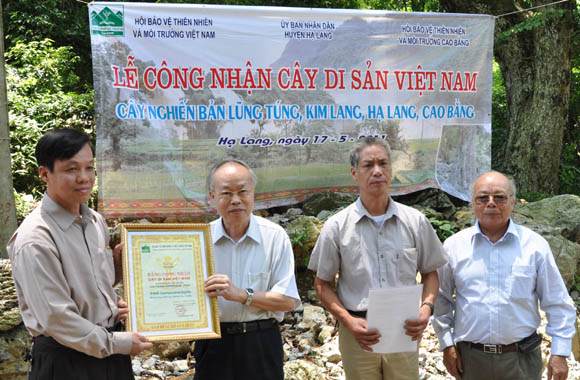 Prof. Chu Tuan Nha (2 nd left), former Minister of Science, Technology and Environment, granted Heritage Tree Certificate for Mr. Le Quang Vinh (1 st left), Secretary of the Party Committee of Ha Lang District
Currently, it is one of the most ancient trees in Vietnam and the second one to be recognized as Vietnam Heritage Tree in Cao Bang province. It is nearly one thousand year old, 50 meters high and 2.5 meters in diameter.
Participating in the solemn ceremony were Prof. Chu Tuan Nha, Former Minister of Science, Technology and Environment and a large number of leaders of VACNE, Cao Bang province, Ha Lang district and local residents.
Addressing at the ceremony, Dr. Nguyen Ngoc Sinh, VACNE's president, expressed his pleasure and happiness to be able to stand under ancient "Nghien" trees that have been preserved by residents in Lung Tung village, Kim Loan commune. He also expressed his belief that after this event, local people will protect the honored trees more effectively as well as actively preserve forests with the aim to have many new heritage trees. It is obvious that there will be more tourists to Cao Bang province to contemplate Heritage Trees in Pac Bo and Lung Tung villages.
Delivering at the welcoming ceremony, on behalf of local authority and residents, Mr. Hoang Van Thu, Vice Chairman of Ha Lang District People's Committee expressed his joy at this meaningful event. He also added that the recognition of the "Nghien" tree in Lung Tung village as Vietnam Heritage Tree not only helps protect this precious tree but also raise local people's awareness of forest protection. Especially, this activity actively contributes to preserve culture, habit and promote tourism in Cao Bang, and at the same time, it responds to International Year of Forests and World Environment Day (June 5).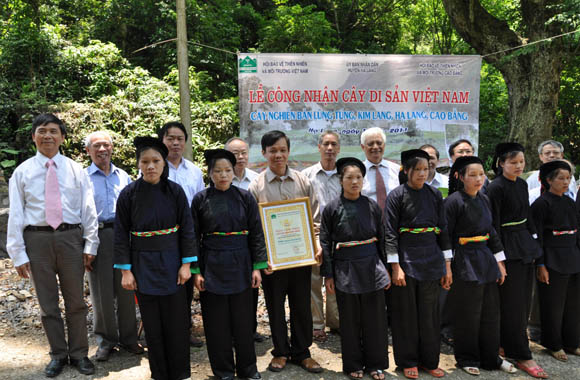 After a brief introduction about this "Nghien" forest, Mr. Dinh Ngoc Hai, President of Cao Bang Association for Conservation of Nature and Environment, said there are "nghien" trees in all twelve districts and communes in Cao Bang province. In some districts like Nguyen Binh, Thach An, Phuc Hoa, Quang Yen, "Nghien" trees form a dense forest with the area of tens of hectares.
After Assoc. Prof. Dr. Pham Binh Quyen had read VACNE's President's Decision on the recognition of "Nghien" tree in Lung Tung village as Vietnam Heritage Tree, Prof. Chu Tuan Nha, former Minister of Science, Technology and Environment, granted Heritage Tree Certificate for Mr. Le Quang Vinh, Secretary of the Party Committee of Ha Lang District in the forest canopy and the presence of numerous officials, soldiers and local people./.
Source in Vietnamese: http://www.vacne.org.vn/default.aspx?newsid=5859